Food
September 19, 2010 - 13:37
August 1, 2010 - 00:34
I wasn't sure what to have for dinner earlier. I had some chicken to cook, some left-over Sharwood's tikka masala sauce and some mushrooms. I decided to experiment and try making those ingredients into a burger. A chicken & mushroom tikka masala burger. It was yummy.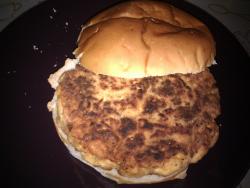 July 25, 2010 - 23:11
Today I baked some brownies; I cheated slightly by using a pre-made brownie mix. Betty Crocker's Chocolate Fudge Brownie Mix only needs to be mixed with 45ml of water and baked for 25 minutes in the included cardboard tray. Simple. I divided it into 6 small brownies and they're yummy. It cost £1.12 in Sainsbury's.