February 16, 2014 - 23:50
Summary
| | |
| --- | --- |
| Yield | |
| Prep time | 30 minutes |
| Cooking time | 1 hour, 15 minutes |
| Total time | 1 hour, 45 minutes |
Description
A yummy, fluffy white chocolate cheesecake made with cream cheese and ricotta.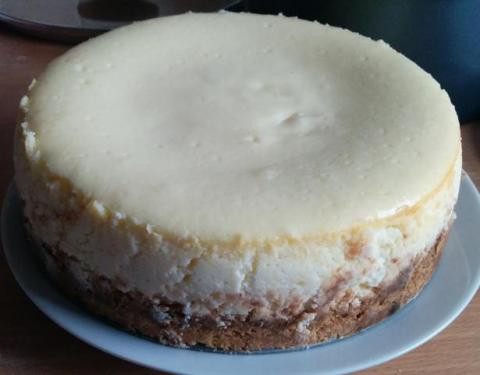 Ingredients
200 grams
Digestive Biscuits (I used Sainsbury's Basics Digestive Biscuits)
100 grams
Unsalted Butter
400 grams
Cream cheese (I used Asda Smartprice Soft Cheese)
150 grams
White chocolate
150 milliliters
Sour cream
1 tablespoon
Cornflour (Heaped)
1 teaspoon
Vanilla extract
Instructions
Preheat oven to gas mark 4 (180° C).
To make the biscuit base
Butter the base of a 20cm cake tin.
Crush the digestive biscuits - I put them in a bowl and whack them with the end of a rolling pin.
Melt the butter and mix with the crushed biscuits.
Press the biscuit/butter mix into the cake tin and bake for 10 minutes, or until it looks ready.
While the base is baking, make the filling.To make the filling
Melt the chocolate.
Using a hand mixer, beat the cream cheese, ricotta, sour cream, vanilla essence and sugar until smooth.
Beat in the cornflour and the melted chocolate.
Beat in the eggs, one at a time.
Putting it all together
Wrap the base of the cake tin in foil and place it into a roasting tin.
Pour the filling into the cake tin.
Fill the roasting tin with boiling water (the foil will stop the water going into the tin - hopefully!).
Bake at 180C for 15 minutes and then reduce the temperature to 160C then bake for about 45 minutes more, or until it's ready (the middle of the cheesecake should still wobble).
Turn off the oven but leave the cheesecake in there to cool, with the door slighlty open.
Transfer to the fridge to cool overnight.
Eat